About us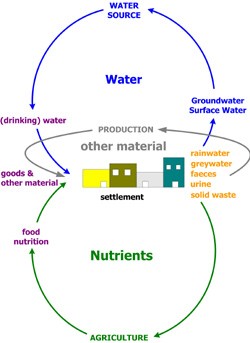 The EcoSan Club was funded as a non profit association in 2002 by a group of people active in research & development as well as planning & consultancy in the field of sanitation.
The underlying aim is the realisation of ecological concepts to close material cycles in settlements.
In addition to the main activities of the association - promotion of EcoSan principles, international networking, provision of information - the number of planning and consultancy projects was increasing.
The EcoSan Club offers:
consultancy
organisation of information evenings and events
contacts
support of specific information
"Sanitation" refers to the principles and practices relating to the collection, removal or disposal of human excreta, household waste water and refuse as they impact upon people and the environment. While the criteria used in this definition are the degrees of minimising health risks and environmental pollution, "Ecological Sanitation" moves a step further by applying an ecosystem view to the problems of sanitation. It relies on the perception of wastes as resources within the system. In this sense "*sanitation systems should be designed to mimic ecosystems in that the "waste" of humans is a resource for microorganisms that help produce plants and food*". The list of criteria used to judge the performance of any solution is extended by aspects like reuse, energy/material flow, entropy, etc. To collect practical experiences with the implementation of EcoSan concepts the EcoSan Club is co-partner in the company ESC Consulting.

Document Actions